Rules for Elimination
These rules are those that are implemented in the The Board.
Board Set-up
Each player stacks all his checkers on their home point in opposite diagonal corners of the board.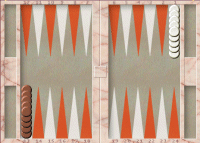 The Gameplay
The basics are the same as in backgammon except the following differences.

Both players move the checkers around the board in counter clockwise direction.

All hit blots are taken off the board and are lost forever.

There is no end on the board. Each quadrant of the board is connected to the next, meaning that a checker placed on the opponent's outer board will next be moving into his own home board again.
How to Win
The player that manages to eliminate all his opponent's checkers wins.