Home
News
Games
Download
Contact us
Deadgammon
Board Set-up
Gameplay
How to Win
Rules for Deadgammon
The following rules are described as they are implemented in The Board.
Board Set-up
The board setup is the exactly the same as in Backgammon.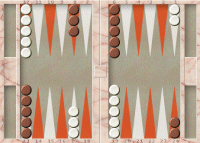 The Gameplay
The game is played out exactly as in Backgammon. Although, the aim here is to be the last player who bears off all checkers.
How to Win
The last player bearing off all of his checkers wins the game.